SKU
Detroit Style Pizza Pans-1
No Pre-Seasoning Required!
Made in the USA.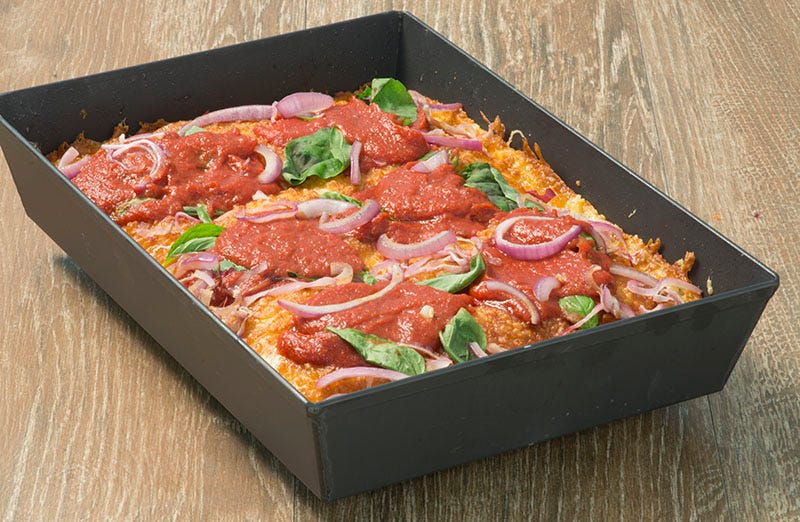 Our exclusive Dura-Kote finish is a permanent, non-toxic release coating that eliminates the need for any pre-seasoning and the hassle of maintaining seasoned pans. LloydPans Detroit Pizza Pans provide an easy release from the pan after baking, are metal utensil safe and are easy to clean.
These commercial quality pans are the same that are used in Detroit Style pizza restaurants and match size specifications of the original blue steel pans.
Made in our US manufacturing plant from heavy-duty anodized aluminum with DK finish, Detroit Style Pizza Pans from LloydPans will never rust, never need seasoning and will last for years.
Dark coated pans tend to produce a little darker crust bake so you may need to adjust your temperature down or shorten your cooking time.
Permanent, non-toxic stick-resistant finish for easy release and cleanup
Double thick flat rim adds strength and long-lasting durability
Nesting - 76° angle allows nesting when empty, saving storage space
To clean LloydPans Detroit Pizza Pan, just soak in hot water with mild dish soap. Use a metal spatula to scrape off any chunks of food while soaking. Wash clean and dry. Keeping the surface free from buildup will ensure a long-lasting stick-resistant finish for years. BarKeepers Friend can be used for occasional deep cleaning. See our Care & Use document.