DIAMOND GRILL PAN-8.9X12.9-PSTK
Special Price
$28.27
Regular Price
$33.26
Cook Steaks, Chicken, Seafood With Impressive, Delicious Grill Marks!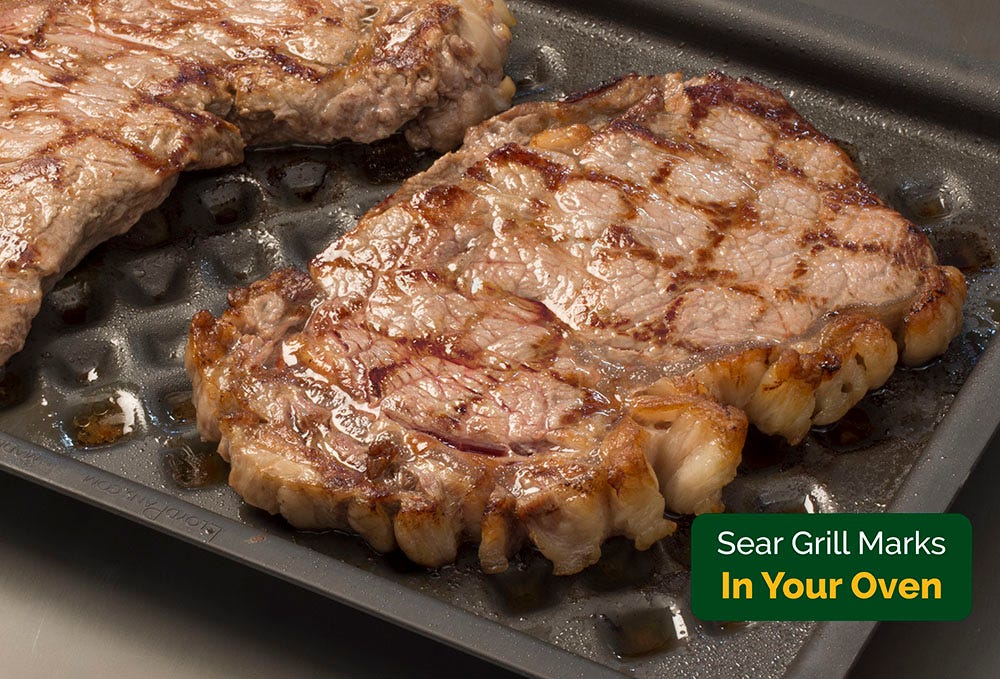 You can now use your oven to cook delicious meats with impressive grill marks. The pan is pre-heated and the bold, diamond grill pattern is seared right onto the surface of the protein as it cooks. 

For home chefs, restaurants and foodservice, any kitchen with a hot oven can easily sear proteins with the Diamond Grill Pan made in the US by LloydPans.

The LloydPans test kitchen has used a conventional home oven, an XLT 1832 impingement conveyor oven, and High-h-Batch Turbochef high-speed oven, cooking steak, chicken, and seafood, successfully achieving grill marks seared into the meats with rare to well-done centers. Time and temperature will need to be established for every oven for the thickness and kind of proteins being cooked.
8.9 x 12.9 inch pan with 7.9 x 11.9 grill capacity
Perfect size for 2 steaks
Easy-grip rim for safe handling  
One-piece construction from heavy 12 gauge aluminum
PSTK permanent easy release coating
Oven safe to 700º F
OVEN RECOMMENDATION FOR CONVENTIONAL HOME OVENS
Pre-heat dry pan to 550°–600° F or as hot as the oven will go.
Lightly oil proteins, if needed.
Quickly press proteins firmly onto the hot pan to start the sear.
Bake approximately 3—4 minutes on each side, depending on the type and thickness of protein.
Copyright © 2021 Lloyd Industries, LLC All rights reserved