CHEESECAKE PAN LOOSE BOTTOM-8X4-SK
Special Price
$35.45
Regular Price
$41.71
Cheesecake Pan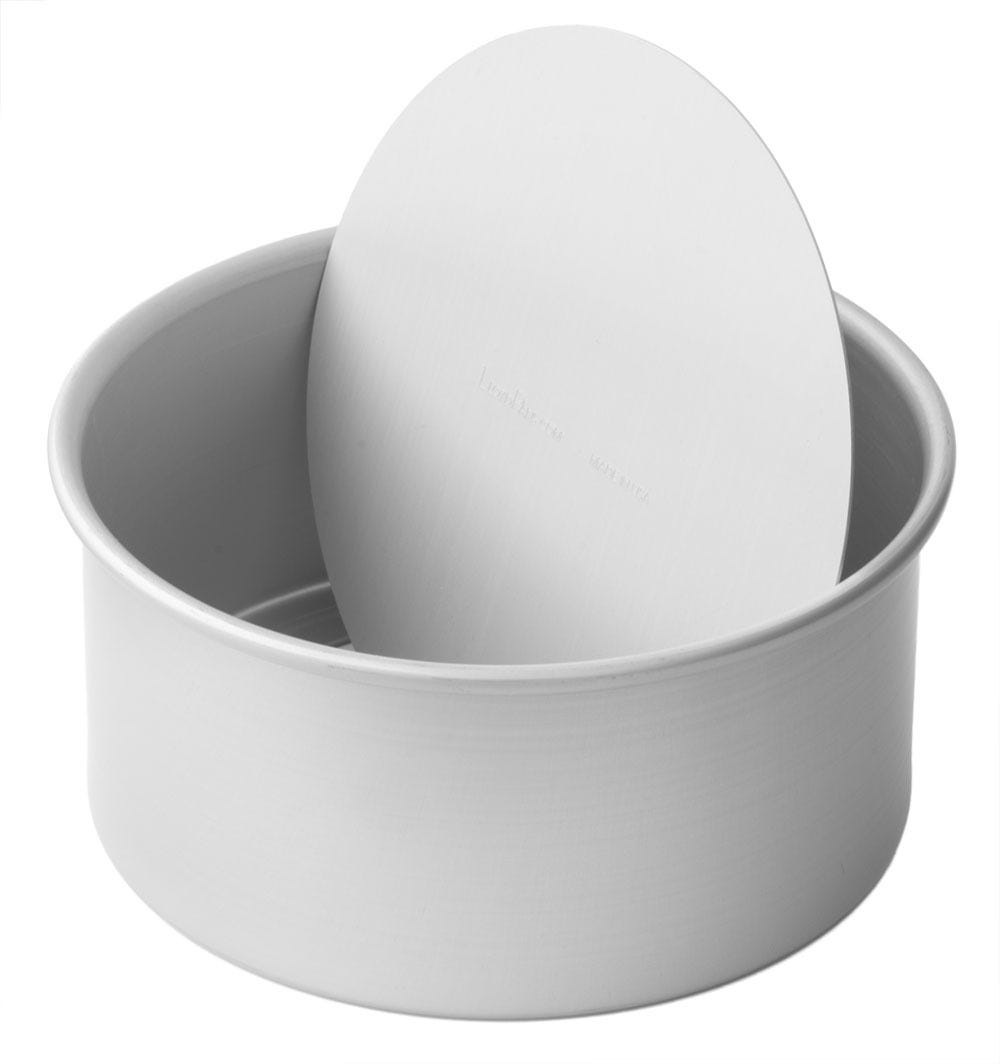 A Special Serious Eats Offering
8 INCHES WIDE, 4 INCHES DEEP
Featuring LloydPans Silver-Kote® Finish
Permanent and non-toxic release coating that works in combination with standard release aids for easier depanning and cleanability.
Unlike springform pans with latches that break over time and with use, LloydPans® Cheesecake Pans with Silver-Kote® finish are precision engineered with loose bottom inserts, seamless construction, and even wall thickness for easy depanning, long lasting durability, and consistent results with every bake.
See important notice below.
Cheesecake Photos by Vicky Wasik via Serious Eats
Stella Parks, author of Bravetart, created this stunning cheesecake recipe.
Check out the Serious Eats post here: 
https://www.seriouseats.com/2019/07/meet-the-towering-insanely-creamy-new-york-style-cheesecake-of-your-dreams.html
Silver-Kote®
Bakes Similar to Bare Aluminum with Added Benefits
Eliminate Reglazing
Unlike silicone, this durable permanent release coating will last through countless baking cycles with proper care.
Reduce Release Aids and Parchment Paper
The easy release surface requires minimal oiling and often eliminates the need for parchment paper.
Steam-Proof Finish
Steam and moisture penetration will not degrade the finish so depanning can occur on your schedule. Safe to soak in water.
Non-Reactive
Neutral, non-toxic finish does not discolor products containing eggs, like cheesecake.
Water based release finish is free of any PFCs, including PTFE.
No Peeling, Flaking or Chipping
The release layer is infused into the surface of the pan to create a long lasting, durable finish.
Easy to clean and maintain
Always hand wash in mild dish soap to protect the finish.
Notice
Machine marks may be visible on our pans
Machine marks occur during fabrication and are a normal outcome of the machining process. They will not affect the performance of our pans and we do not polish them out, just for the sake of appearance.
Our products are manufactured for commercial use where appearance isn't nearly as important as performance. LloydPans is the preferred supplier for several hotel chains, commercial bakeries, and the largest franchises in the pizza industry where our products are known for their durability and chosen for exceptional culinary results. Our Silver-Kote®, Pre-Seasoned Tuff-Kote® and Dura-Kote® stick-resistant finishes are permanent and non-toxic. These finishes will not chip, peel, flake, or become embedded in the foods our customers prepare…and we believe that is vitally important for healthy eating.
More Information

| | |
| --- | --- |
| Top Diameter | 8 |
Copyright © 2021 Lloyd Industries, LLC All rights reserved