Responsible Manufacturing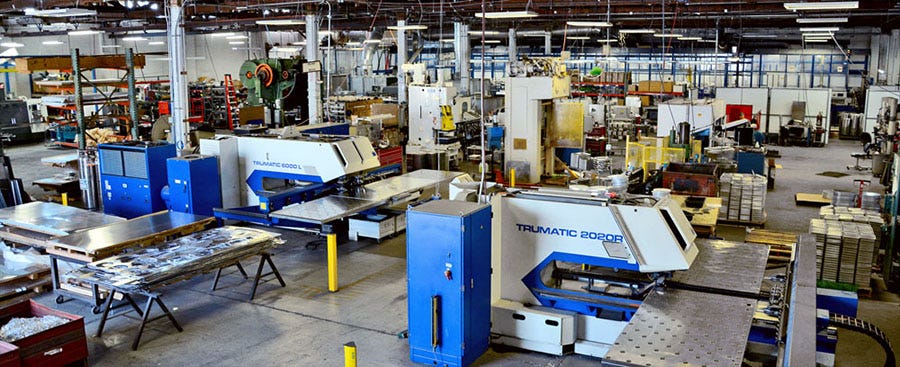 Committed To You, Committed To The Environment, Committed To Our Workers
Our approach to responsible manufacturing not only focuses on our manufacturing processes but goes beyond to emphasize how the products perform in your kitchen and the health and well-being of our workers.

ECO-FRIENDLY MANUFACTURING
By forming our pans, hard-coat anodizing, and applying coatings all in one location, we save energy by not having to transport products to different locations for each process. The following are our Green Manufacturing Initiatives:
Complete manufacturing of products done in one location saves transportation costs and energy
Recycle or re-use everything from excess raw materials to incoming packaging materials
Send alum derived from anodizing to the city of Spokane's wastewater treatment plan, which city officials say helps the settling process in the treatment plant's clarifiers
More than 60 percent of electricity is derived from renewable hydro and wind power with the balance coming from natural gas
LloydPans Kitchenware's proprietary water-based coatings use NO PTFE, PFOA, fluoropolymers, or any other toxic chemicals. They have no toxic waste and are completely inert
LLOYDPANS KITCHENWARE: GREEN IN YOUR KITCHEN
What really counts is how our cookware performs for our customers. LloydPans Kitchenware is manufactured to commercial-quality standards, which means they're build to last. Not only do you benefit from reduced replacement costs, but you also help support environmental initiatives by reducing production builds.
Our cookware is also extremely heat conductive, which helps conserve energy in consumer homes by allowing them to use less heat while cooking. As a LloydPans Kitchenware customer you save:
By supporting a US-made product you are reducing your carbon footprint
By buying direct from the manufacturer, you are paying less for marketing and receiving a better-valued product
By using 40% less energy to cook with using efficient cookware, which helps save money
By having cookware that will last a long time
By having a product that is 100% recyclable
By using healthy cookware that has no toxins or hazardous petrochemicals

OUR WORKERS
Fundamentally, our employees are at the heart of our company. We recognize that our ability to thrive as a business would not be possible without their hard work and dedication to creating expertly manufactured cookware, just for you. For this reason, we believe the final component of Responsible Manufacturing is how our company treats its workers.
Support the US Economy. Every part of the manufacturing process takes place in our Spokane Valley, Washington facility. Therefore, purchasing LloydPans Kitchenware helps support the US economy, since jobs are not outsourced to international factories that abuse workers who are forced to work long hours in unsafe working conditions with next-to-nothing pay.
Fair, Livable Wages. All employees receive fair, livable wages that greatly exceed industry averages for our County. In addition, LloydPans Kitchenware offers full benefits to all full-time employees and paid time off. The result is low turnover and happier employees.
Safety Compliance. LloydPans Kitchenware maintains strict compliance with safety standards to ensure the continued health and longevity of our workers. Our company also maintains a safety committee that is responsible for evaluating and improving current safety standards and company protocols.
We are demonstrating that a comprehensive, pro-active approach to responsible manufacturing is possible.
Copyright © 2021 Lloyd Industries, LLC All rights reserved