Mocha Cream Cake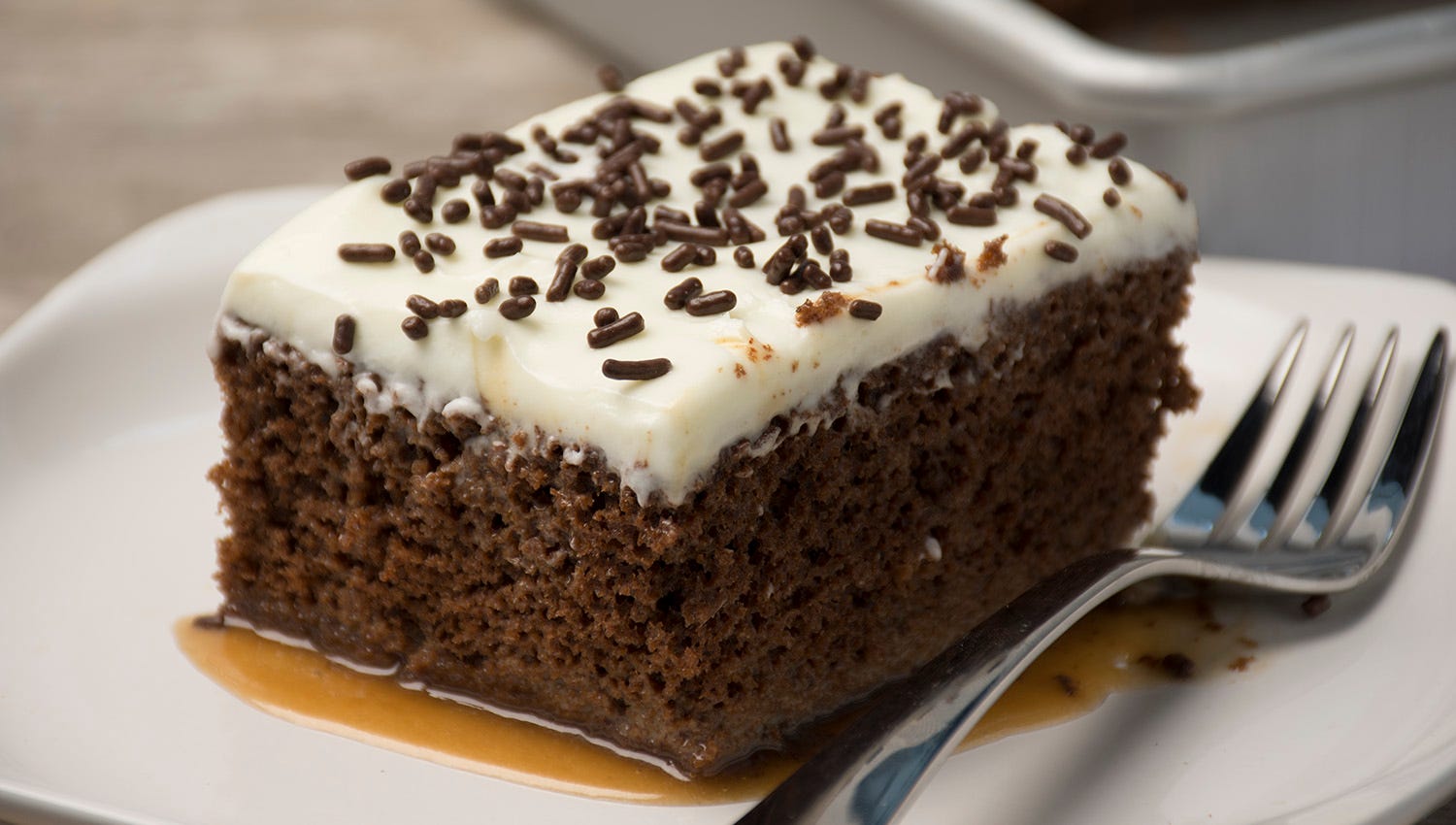 Cooking Instructions
1. Preheat oven to 325°F.
2. Using your LloydPans Kitchenware 3 Quart Sauce Pan, bring half-and-half cream to a simmer
over medium-low heat. Once simmering, remove from heat and mix in unsweetened cocoa
powder until the consistency is thick. Let cool.
3. Separate eggs—place egg whites into a large bowl and egg yolks into a small bowl.
4. Beat egg whites with an electric mixer until soft peaks form. Slowly add the granulated sugar
and increase beating speed until stiff peaks form.
5. Add egg yolks to beaten egg whites and mix until combined. Add cake flour and baking
powder to the egg mixture and beat until combined.
6. Add chocolate mixture from Step 2 above and vanilla. Beat until combined.
7. Pour cake batter into your LloydPans Kitchenware 9 by 13 inch sheet cake pan. Bake for 25-35
minutes or until a wooden toothpick inserted near the center comes out clean.
8. Let cool for 40 minutes.
9. Using your LloydPans Kitchenware 6 Quart Sauce Pan, combine the evaporated milk and the
Café Bustelo™ instant coffee powder. Heat and stir over medium-low heat until the powder has
dissolved.
10. Remove from heat and stir in sweetened condensed milk and 3/4 cup heavy whipping cream.
11. Using a fork, poke several holes through the cake. Pour espresso mixture from Step 9 and 10
evenly over the top of the cake.
12. In a medium bowl, beat cream cheese with an electric mixer until smooth. Add powdered
sugar and beat until combined. Add remaining 1 1/2 cups heavy whipping cream and beat
until consistency resembles a slightly-runny frosting.
13. Spread frosting mixture from Step 12 over cake. Chill for 2 hours.
14. Add chocolate sprinkles, serve and enjoy!
Cooking Information:
Prep: 30 minutes
Bake: 25-35 minutes at 325°F
Cool: 40 minutes
Chill: 2 hours
LPK items used in this recipe:
9 by 13 Inch Sheet Cake Pan
3 Quart Sauce Pan
6 Quart Sauce Pan
Ingredients:
6 eggs

3/4 cup unsweetened cocoa powder

1 3/4 cups cake flour

3/4 cup half-and-half cream

4 teaspoons baking powder

1 1/2 cups granulated sugar

2 teaspoons vanilla

12oz evaporated milk

3 tablespoons instant coffee

2 1/4 cups heavy whipping cream

14oz can sweetened condensed milk

Chocolate Sprinkles

4oz cream cheese

1 cup powdered sugar

Copyright © 2021 Lloyd Industries, LLC All rights reserved